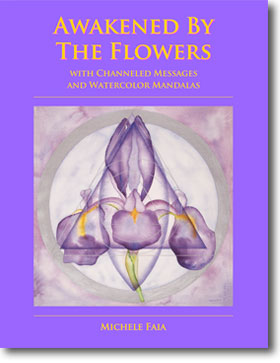 This book began when I received a message on a morning walk from my spirit guide: "We are going to write a book together," he said. I had been receiving messages for years, but nothing like this. The book, I was told, was to be about color and "the power that is in color that so many, including yourself, do not yet fully comprehend."
About 15 years in the making, the book's story is told with my watercolor mandalas combined with channeled messages from my spirit guides. All in color, it is enhanced with vignette details of the mandalas. The book started for me as an adventure of opening to the power of color, flowers and spiritual guidance at a deeper level than I had done before. This turned into an unexpected and unplanned awakening to my spiritual calling. The book then became an encouragement for others to open to their own personal spiritual calling.
 What's In The Book:
Channeled Messages About The Healing Power Of Color And Light
How My Spirit Guides Assisted Me Through 2 Life-Challenging Illnesses
How I Healed With Flowers, Watercolor Mandalas And Spiritual Guidance
The Communication Of Flower Energy Paintings Through Color And Poetry
Learn About The Personal Mandalas Painted On My Journey
FREE SAMPLE FROM THE BOOK: Available on the side bar is a file of the book's Table of Contents and Introduction which you can download for free. These will provide you more information about the book and give you a feel for the whole story.

Where to Get the Book
PURCHASE THE PRINTED VERSION OF THE BOOK ON PAYPAL
The full-color printed book will be mailed to you by Michele – Delivery takes about 5-10 days.
The book is 124 pages and is 8.5″ x 11″.
Cost: $18.00 Plus Shipping
PURCHASE THE PDF VERSION OF THE BOOK ON PAYPAL
The 124 page PDF book will be emailed to you by Michele within 24 hours.
Cost: $9.99
Where to Purchase Art In My Heart

If you live in the Santa Cruz area, and you want the book immediately, you can purchase from the following local stores and sources:
Bookshop Santa Cruz
1520 Pacific Ave.
Santa Cruz, CA
(831) 423-0900

Wisteria Antiques
5870 Soquel Drive
Soquel, CA
(831) 462-2900