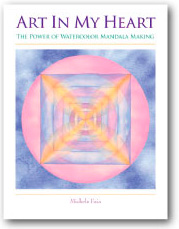 Michele created this book, Art In My Heart; The Power of Watercolor Mandala Making, from her original 6-week classes, where she developed her own unique way of teaching watercolor and mandalas. She makes learning to paint watercolor simple and easy. At the same time, she teaches how to have fun with the profound process of creating personal mandalas.
Full color and beautiful, this how-to book shows how to create many different mandalas and enjoy immediate results. Each chapter presents a new mandala with a "How to Get Started" section at the end of the chapter.
There are inspirational examples of Michele's mandalas as well her student's. Finally, it tells the story of how Michele got started with mandalas and what they taught her about centering, healing and painting from her heart. This is a book for anyone to learn watercolor, create personal mandalas and connect with their inner creative spirit.
Available on the sidebar are files you can download to view the book's Table of Contents, Introduction, Getting Started and a lesson in making your own creative Color Wheel.
NEW PRICE NEW PUBLISHER
Art in My Heart; The Power of Watercolor Mandala Making is now being published by IngramSpark, allowing it to be offered at the new price of $18.00. You can purchase the book here through PayPal and Michele will ship it to you with arrival in 1-2 weeks.
IngramSpark is connected to many bigger bookstores around the globe so you may be able to order the book from your bookstore.
PURCHASE THE BOOK ON PAYPAL
Where to Purchase Art In My Heart

If you live in the Santa Cruz area, and you want the book immediately, you can purchase from the following local stores and sources:
Bookshop Santa Cruz
1520 Pacific Ave.
Santa Cruz, CA
(831) 423-0900

Wisteria Antiques
5870 Soquel Drive
Soquel, CA
(831) 462-2900