Michele teaches various 6-week classes in Santa Cruz County including: Painting As A Path to The Heart, Watercolor and Nature Mandalas, Watercolor Flower Mandalas, Watercolor Mandalas: Seeds of Possibility, Watercolor Mandalas: Gifts from The Heart, Capturing The Light in Mandalas. She also teaches 1 or 2-day workshops in various locations. Watch the schedule for the latest classes. You can discuss with her the possibility of her teaching a workshop in your area.
CLASSES PRESENTLY OFFERED:
Mandalas for Personal and Global Peace
Dive into the Mystery of Mandalas

Coffee Shop Mandalas and Nature Mandalas
---
LATE SPRING 2017

MANDALAS FOR PERSONAL AND GLOBAL PEACE
This classes' mandalas have been posted on my Facebook page
6 Thursdays:  April 20 – May 25, 2017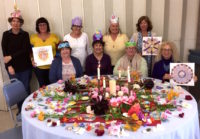 Course Description
With free-flowing watercolor, and within the sacred circle of mandalas, we will explore the journey to peace for both ourselves and the planet, creating peace symbolically within our own mandalas as well as our circles of influence. What are the attitudes we hold personally and globally which produce peace? Which do not? We'll paint those and our shadows into mandalas as we learn and practice watercolor, and make personal mandalas from the heart. Meditation and sacred geometry will be incorporated into our journey. Beginners are always welcomed and supported in our mandala circle. We are all devoted to having fun as we continue to learn and practice watercolor and mandalas.
Bring to the first class: One round watercolor brush (Simply Simmons is good, size 6); watercolor pigments (either a Prang palette or small watercolor tubes with a portable, lidded rectangular palette); a pad of watercolor paper (Strathmore 11"x15" or 12"x12") or bring whatever you have. More materials will be discussed at the first meeting.

Class Location
Capitola Community Center
4400 Jade Street
Capitola, CA
(831) 475-5935
Class Title
Mandalas For Personal and Global Peace
Class Schedule
Day: Thursdays
Time: 1:00 PM – 3:30 PM
6 weeks
Cost
R:$86; NR:$100
Registration: 
Online & Registration begins March 23, 2017
https://apm.activecommunities.com/capitolarecreation
Open to
16 yrs and up
If you have any questions, call Michele at (831) 662-8857
---
DIVE INTO THE MYSTERY OF MANDALAS

1/2 Day, Saturday, August 5, 2017  The workshop is full, but you may put your name on a waiting list. There is usually at least one who drops out at the last!*

Course Description
Traditionally mandalas were used as a journey to enlightenment. What is that mystery—the journey to enlightenment? Journey with me to explore the mystery, be the mystery, know the mystery. Drop deeply into yourself via the mandala experience.
This is a class for the novice as well as the experienced. We will learn and practice one new watercolor technique or "wash." We will learn about the structure, design and sacred space of the mandala. We'll learn a new sacred geometry design using a compass and we'll open our hearts to the "generosities" which are offered by the mandala. The sacred geometry design we'll learn is called the Torus Seed of Life.
I am offering this as a 1/2 day workshop at our new studio in our home in Aptos. There is space for only 6.
Bring to the first class: I will email you a Material's List upon your registration.

Class Location:
130 Camino Pacifico, Aptos, CA

Class Title
Dive into the Mystery of Mandalas
Class Schedule
Day: Saturday, August 5, 2017
Time: 10:00 PM – 2:00 PM
1/2 day
Cost
$50
Registration: 
Call first to see if there is space in the workshop! *The workshop is full but call or email to put your name on a waiting list—it is not uncommon to have at least one drop out at the last minute!
Send me a check to reserve your seat: 130 Camino Pacifico, Aptos, CA 95003
Include your phone number and email address
Class limited to 6 participants
No refunds within 10 days of class
Open to
16 yrs and up
If you have any questions, call Michele at (831) 662-8857
---
COFFEE SHOP MANDALAS AND NATURE MANDALAS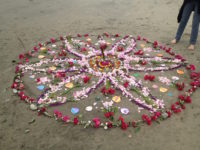 To keep our mandala work going, let's meet at a coffee shop, or in someone's garden, have coffee or tea together and do mandalas with other mandala making friends. Bring simple art supplies: small square sketch books with felt pens or colored pencils, or small watercolor supplies. Anyone can join in, but there will be no instruction. We meet for about an hour or so.
For Nature Mandalas, everyone is welcome to help create the mandala. Mostly on the beach, we meet and join hands first for an Earth Blessing Circle. We all bring flowers, shells, seaweed, drift wood, sand dollars and begin making the big mandala on the beach together. It takes about an hour. Then, at some point, the mandala is washed into the sea.
Make an "art date" and schedule one yourself. Several groups have met already and more are wanting to. Let me know if you are interested.
SCHEDULED NATURE MANDALA for the Summer Solstice
Date, Time and Location:
Date: Wednesday, June 21, 2017

Time:  12 Noon

Place: Rio Del Mar Beach, on the Rio Del Mar Esplanade, across from Cafe Rio

Do you have an idea of a time and place you would like to gather for a Coffee Shop Mandala? Contact Michele.